---
Happy Hanukkah!
Hanukkah 2018, the Jewish "festival of lights," begins on December second.
This action is on a new page. Don't forget to come back and tell us if you took this action.

Thank You!
Thank you for completing this action. Head back to the action library to see more ways you can help.
Share this Action
Hanukkah is an eight day celebration observed by Jewish people around the world between late November and late December. It commemorates the rededication of the temple in Jerusalem in 165 BCE, as well as the restoration of freedom of worship for the Jewish people. Hanukkah is a celebration of freedom, culture, and survival in the face of seemingly insurmountable odds. Each year, Jews literally and metaphorically keep the flame of memory kindled.
Here at the National Underground Railroad Freedom Center, we keep Freedom's Eternal Flame burning in memory of those who are not free. Today, an estimated 21 million people are trapped in bonded labor, domestic servitude, sex trafficking, child labor, and forced labor. Fortunately, wherever there is injustice, there are freedom fighters and abolitionists.
In honor of Hanukkah, consider becoming a modern day abolitionist. If you will be celebrating with your family, consider hosting a Fair Trade Hanukkah. Click the button above for inspiration.
Chag Urim Sameach!
Forms of Abolition:
Awareness
Forms of Slavery:
Domestic Servitude, Sex Trafficking, Forced Labor, Bonded Labor, Child Labor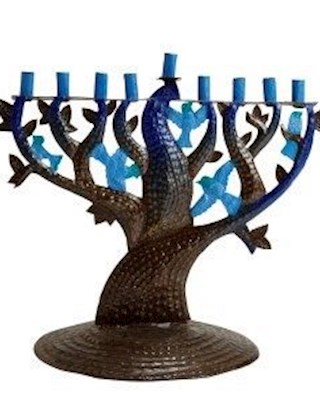 Did you complete this action?
We want to track how many people take this action, so we understand the impact it has on the ground. We share these impacts regularly and always partner with organizations to make sure what you're doing counts.