---
Ask Wendy's to Join the Fair Food Program
Show fast food chains that where they source their food matters
This action is on a new page. Don't forget to come back and tell us if you took this action.

Thank You!
Thank you for completing this action. Head back to the action library to see more ways you can help.
Share this Action
The Fair Food Program partners with farms and companies to ensure that farm workers are treated justly and fairly. Join Fair Food allies this Valentine's Day weekend to put the spotlight on Wendy's, one of the fast food chains the group is asking to make a commitment against forced labor. Submit short videos to Wendy's on social media between February 12-14!
Include your name, where you're joining from and why you're breaking up with Wendy's this Valentine's Day. Upload a 30-second video to Facebook or Instagram, or e-mail it to organize@allianceforfairfood.org. Make sure you tag @Wendys, @sfalliance and @alliance4ff! 
Forms of Abolition:
Policy Making
Forms of Slavery:
Forced Labor, Child Labor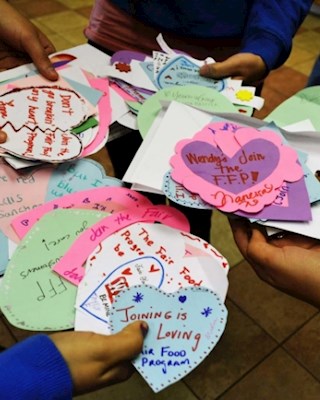 Will you complete this action?
We want to track how many people take this action, so we understand the impact it has on the ground. We share these impacts regularly and always partner with organizations to make sure what you're doing counts.